SIMMER DOWN ARTS NEWSLETTER JULY 2021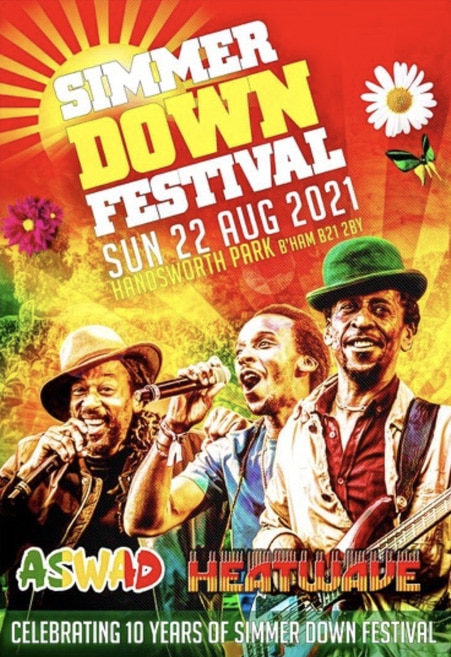 Please Join Us
After months of planning, securing artists, suppliers and putting in place additional health and safety measures to meet the Safety Advisory Group conditions, the Government's decision to extend Covid-19 lockdown restrictions to 19th July meant that our festival date of 18th July fell within the restriction guidelines. However, we were determined that the festival had to go ahead with all the necessary Covid-19 social distancing protocols, especially as our communities have had to endure months of gloom and doom pandemic lockdowns.
Since the announcement, we have worked tirelessly with our Board members and various stakeholders to find an alternative date that is conducive to the availability of our headline artists and also fits in with the festival's operational and infrastructural requirements.
As such, we are delighted to announce that the much loved Simmer Down Festival will take place in Handsworth Park on Sunday 22nd August – it will be headlined by ASWAD plus one of funk and disco's preeminent bands, HEATWAVE alongside an array of local artists, musicians, and DJs – please join us with your family and friends and pass the word!
ABOUT ASWAD:
Aswad, Britain's most influential and enduring reggae acts, formed in the Ladbroke Grove, West London in 1974. Aswad reached No.1 on the UK Reggae Charts in 1976 with their debut release, 'Back to Africa,' 'Love Fire,' their popular anthem released in 1981. In 1988, Aswad earned international acclaim with their reggae version of 'Don't Turn Around,' which sailed to the No.1 in the U.K. Charts.
Aswad captured a host of new fans with the release of the album 'Rise & Shine' in 1994, a recording which saw the band's first Grammy nomination for 'Best Reggae Album of the Year.' A major hit in the UK and Japan, the album also gave the band another No.1 hit with the now famous summer reggae anthem 'Shine.'