Simmer Down Arts Newsletter May 2021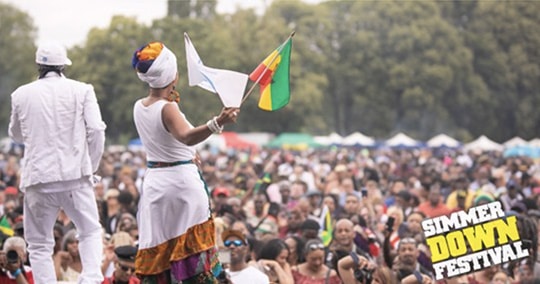 Simmer Down Lounges
Over the past few months, Simmer Down has created two free livestreams in our Lock-Down Lounge series.
Motown in Dub was a spectacular live show featuring some of Birmingham's finest vocalists and stellar musicians. It blended classic Motown hits with upbeat Roots Reggae in a steppers Dub style, plus a whole heap of upbeat festive support acts. MarCus-Bee and Shirlee-Bee hosted the event, playing the very best in 70s disco funk, soul and roots reggae classics.
The second stream was a special Christmas roots reggae live stream, featuring the international conscious roots reggae messenger MACKA-B & the Roots Ragga Band, plus UK's number one Bob Marley tribute band LEGEND, with King Zuki on the decks from Luv Injection Sound and Myki Tuff (Friendly Fire Band) as the hots and compere.
Both of these are still available to watch on our YouTube page: https://www.youtube.com/channel/UCHgykf0hcL0bDBnwzvxhlnQ
Birmingham Reggae Royalty
Birmingham Reggae Royalty is a new exciting commission by Simmer Down Festival, which brings together 5 music creators and the internationally acclaimed music producer Simon Duggal in a project, which whilst paying tribute to the City's past reggae luminaries, blends and mixes musical genres to creates a future-facing global reggae sound that reaffirms Birmingham's position as the epicenter of reggae music outside of its birthplace Jamaica. The project will culminate in a new piece of music and an accompanying video, which will be performed live on the main stage at Simmer Down Festival 2021.
Simmer Down Festival gratefully acknowledges support from PRS for Music Foundation for the Birmingham Reggae
Hidden Hands
Conceived and directed by Mukhtar Dar on behalf of Simmer Down Arts, Hidden Hands was funded by the Arts Council England as part of the Emergency fund. It is a musical tribute, which brings together leading artists from Birmingham's diverse communities to highlight, that in the UK members of Black, and Asian communities are four times more likely to die from Covid-19.
Executive Producer and Project Director, Mukhtar Dar, said:
"This project came out of a traumatic set of personal circumstances which have been echoed by many others in our communities. Within a week of the UK national lock-down, my father lost his sight and his hearing; he couldn't walk and was rushed into hospital. We couldn't visit him, he couldn't call us and we lost all contact with him. At the same time, my sister in-law's father died in the back of an ambulance, she is a doctor and her father was a doctor – he died from Covid-19."
The project assembled a creative team including singer songwriter Dave Rogers from Banner Theatre and Puerto Rican scholar, poet and activist, Antonia Darder. Dave Rogers and Antonia Darder wrote the lyrics in consultation with Mukhtar Dar.
Dave Rogers and Antonia Darder said:
"The song speaks to the many Black and Asian people who have played a vital role in providing NHS services during the pandemic. It calls out the institutional racism responsible for the disproportionate impact on Black and Asian workers and celebrates the "heroes" who risked their lives to care for others, including politicians who praised them, yet disgracefully failed to provide adequate frontline protection."
The lyrics were then emailed to some of Birmingham's outstanding and prominent vocalists who recorded the verses on their personal laptops whilst in isolation during the lock-down. These singers and stellar musicians all came from the target communities that have been impacted by COVID-19, and they were only too keen to come on board as each one of them had personal accounts of how the virus has affected their families and friends. From the Grammy-award winning Selwyn Brown (Steel Pulse), to chart-topping Errol Reed (China Black), and one of the most prominent Bhangra vocalists in the UK, Shin (DCS), to the young up-and-coming Janel Antoneshia.
The link to the song can be found here: https://www.youtube.com/watch?v=7lOO6TkLLrc